Applied Biometrics for the security of Critical Infrastructure
Applied Biometrics for the security of Critical Infrastructure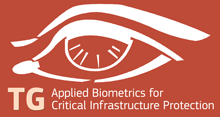 Applied Biometrics for the security of Critical Infrastructure
BIOMETRICS
---
Challenge
The reliability of biometric technologies is unknown. In particular the following criteria are often unknown or impossible to compare against competitors:
The performance of the underlying biometric system
The robustness to vulnerabilities such as direct (spoofing) or indirect attacks, and
The strength of privacy preservation techniques. The lack of standard operational evaluations is the reason that we cannot measure the reliability of these biometric technologies. Some initiatives exist in Europe, the USA, and Asia. However, these initiatives are: isolated, disorganised, or limited in time. This leads to discontinuous and non-integrated efforts which have a limited life span.
Focus of work
During the first meeting, the TG defined its focus more towards standardisation of testing methods, and decided to address the following areas where biometrics has a particular application:
Automated Border Controls
Physical access control
Logical access control
Mobile identity checks ('on-the-spot challenge'/virtual zones in restricted areas of operation of critical infrastructures);
The work programme - Main deliverables
While the TG has not yet finalised its work programme it has decided that it will produce the following main deliverables:
Awareness document
Analysis of priorities for use of biometrics by operators of CIs, using the awareness document/DVD to help the CI operators understand the opportunities
New work item proposals to appropriate standardisation bodies for application profiles and testing / certification methodologies specific to the identified applications areas
Organisation of a conference/conference stream related to the above work packages.
Deliverables List
---
Upcoming events
---
Latest News
---
Related Articles
---