Detection of Explosives & Weapons at Secure Locations
Detection of Explosives & Weapons at Secure Locations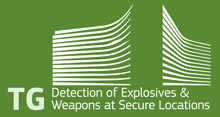 Detection of Explosives & Weapons at Secure Locations
DEWSL
---
Challenge
There are no technical specification and performance requirement standards for explosive and weapons detection equipment and security screening processes used in non-aviation fields. One reason is the variations in the needs of the different "non-aviation" environments, which makes harmonisation very difficult. As a consequence, it has not been possible to propose a single scheme at EU level for the certification, testing and trialling of equipment.
Focus of work
In 2015, the TG investigated the operators needs for explosives detection at locations that have a secure perimeter, such as government buildings; industrial locations; nuclear sites, ports, and major event venues. The TG developed a set of recommendations that were validated through a consultation workshop.
Based on those recommendations, the 2016 focus of the Group is on:
Developing guidelines for screening of people, possessions and vehicles in 'open' locations that do not have a secure perimeter;
Identifying new techniques and technologies for screening of vehicles in secure locations with high throughput, and in 'open' locations, as above.
The work programme - Main deliverables
In its previous activity, this group produced:
A Statement of User Needs on non-aviation configurations with requirements for explosives detection;
The State of the Art report on existing regulations in Europe relating to the deployment of explosive detection equipment in non-aviation configurations.
ERNCIP Detection of Explosives and Weapons in Secure Locations (DEWSL)
Final Report Phase 1
Abstract
Explosives and weapons attacks are an increasingly common threat to the security of the citizen and society within the EU, as in other parts of the World. This report addresses the need of facility operators and security managers who need to mitigate the threat of explosives and weapons attacks at the facilities for which they are responsible. In particular, it covers secure locations, which have a clear perimeter at which security screening for explosives and weapons threats can take place. These include critical infrastructure sites, secure government and commercial buildings, sports and entertainment venues, major political and cultural event venues.
For further details, please contact the ERNCIP Office.
Deliverables List
---
Upcoming events
---
Latest News
---
Related Articles
---